A
ndrew Bergeron
Andrew Bergeron is instructor of guitar and music theory at Grand Rapids Community College, Grand Valley State University and Aquinas College. He is the founder of the Suzuki guitar program at Grand Rapids Community College where is has taught since 2002. Mr. Bergeron has been on staff as a church musician, co-director, and composer at Bethlehem Lutheran Church in Grand Rapids, MI since 2003. Bergeron also performs with Folias, a nationally touring flute and guitar duo that specializes in original compositions and Latin American music that he co-founded with his wife flutist Carmen Maret. Andrew is a founding performer and composer with the Grand Rapids Guitar Quartet which performs Mr. Bergeron's new works and arrangements throughout West Michigan. Andrew Bergeron has been a Blue Griffin Recording artist since 2004. Andrew received his Bachelor of Arts in Music and Philosophy from Grand Valley State University in Allendale, MI with a focus on guitar performance, music composition and Chinese philosophy. Mr. Bergeron received his Master of Music in composition at Michigan State University School of Music where he was recipient of the "Paul Harder Composition Scholarship." Andrew Bergeron's main guitar teacher was Brian Morris at Grand Valley State University. He also studied with Nicholas Goluses and Scott Tennant while at the Eastman Guitar Festival. Andrew's main composition teachers were Charles Ruggiero and Bob Schechtman and he studied theory with Sherman Van Solkema. Visit http://foliasmusic.com/ for further information
David Martin
Teaching himself electric and acoustic guitar as a young man, David Martin went on to study classical guitar with Brian Morris and Carlos de la Barrera at Grand Valley State University in Grand Rapids, Michigan. Once receiving a Bachelor of Arts in Music, David went by way of scholarship to complete his Master's degree at University of Cincinnati College-Conservatory of Music under the instruction of renowned Professor Clare Callahan. He performs in a variety of settings from lead guitar in both acoustic and electric rock bands to various classical guitar concerts and recitals plus private parties and weddings across the United States.
David is also a member of several ensembles, including the Grand Rapids Guitar Quartet and the Lake Michigan Guitar Duo, which performs original compositions along with traditional classical arrangements. In addition to these ensembles, David performs with local and national musicians for a variety of recitals and events, including a special performance at the Miss Wheelchair USA 2010 opening banquet dinner. Mr. Martin teaches a wide variety of music, from hard rock, to jazz and classical, and currently serves as adjunct professor of guitar at Hope College in Holland, MI and Calvin College in Grand Rapids, MI. Visit http://davidclassicalguitar.com/index.html for further information.
Brian Morris
Brian Morris is in his nineteenth year as a member of the GRCC Music Faculty. An associate of the Michigan Arts and Humanities Touring Program, Brian maintains an active performing schedule, performing both as a soloist and with the Grand Rapids Guitar Quartet. He has performed with the West Shore Symphony, the Grand Rapids Symphony; at the College Music Society's Regional Conference in Madison, WI, the Kennedy Center and has twice been featured as a presenter of Latin American Music at the Kellogg Institute for International Studies on the campus of Notre Dame University. He was the Director of the 2010 Mid America Guitar Ensemble Festival and has taught a number of master classes and workshops as well as being a faculty member and ensemble director for the Interlochen Summer Guitar Workshop. His recent concerts include performances both in the US and Canada. Brian is the Director of the GRCC International Guitar Series and has been a concert organizer for over twenty years. Earning music degrees from both Florida State University and Montana State University, Brian's past teachers include Christopher Parkening and Bruce Holzman. He has participated in master classes with Manuel Barrueco and David Russell. He has recorded four CD's including music for solo guitar, guitar ensemble and original songs. Visit http://brianmorrisguitar.com/ for further information
Michael Stockdale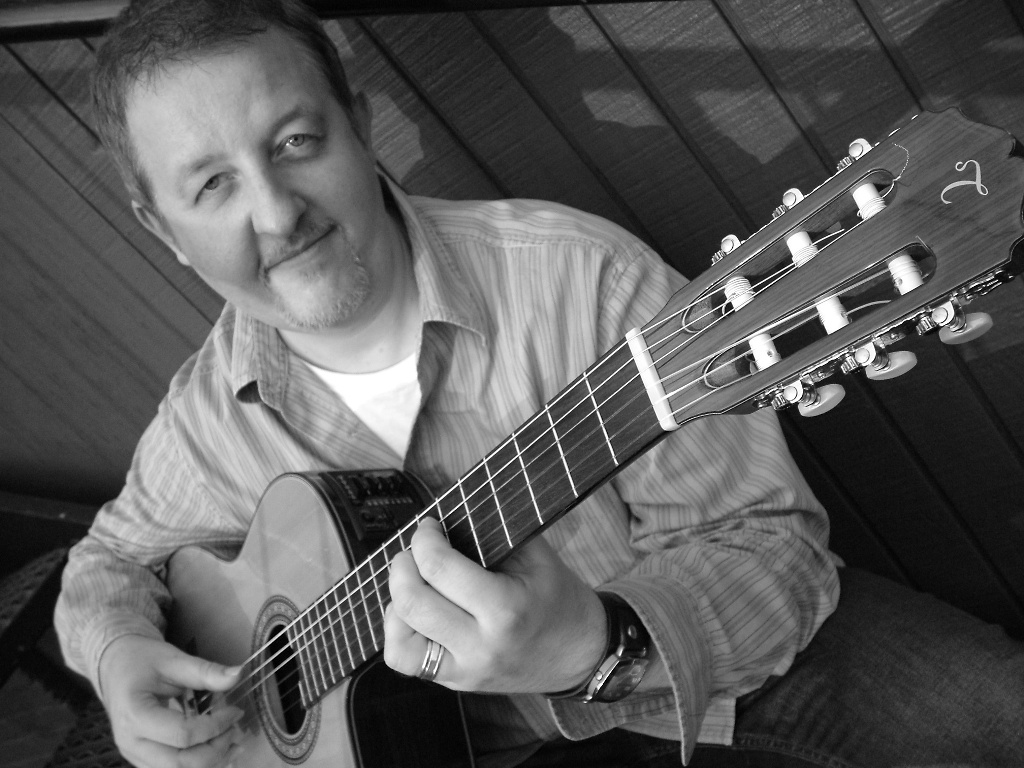 English-born guitarist, Michael Stockdale is a graduate of London's prestigious Royal College of Music where he studied with Charles Ramirez and Patrick Bashford. Mr. Stockdale has given numerous performances as a soloist and chamber musician and has been featured on both English and American radio and television. In 1993, Mr. Stockdale received the Chamber Music America/ASCAP award for adventurous programming. Aside from his many accomplishments as a classical musician, Michael has been active in Christian Music for over 20 years. In 2003, he performed with Michael English in a special concert to benefit Prison Fellowship Ministries. Since moving to Grand Rapids in 2003, he has become a part of the Worship and Creative Arts Department at Resurrection Life Church, ministering with several groups. Before moving to the Grand Rapids area, Mr. Stockdale was the Chair of Music and Director of Detroit's Institute of Music and Dance (1991-96) and was on the adjunct faculty of Wayne State He currently is the Division Chair for Music at Cornerstone University. Visit http://michaelstockdale.com/ for further information.